Posted on 01/03/2016 11:14 AM
Is naked camping and nudist beaches your thing? How about naked tramping or watching the Nude Blacks play rugby?  I've never practiced naturism outside of my own house, but after writing this article I'm tempted to give it a go! You might feel inspired too….
1. Nudity in NZ
Kiwis are pretty casual when it comes to public nudity and it is not against the law to be naked anywhere in NZ!  However, discretion is always advised. If you are naked and deemed having the intention to be obscene or cause offense then you could get in trouble. Sticking to a secluded beach, forest, bush or river spots or designated naturist areas is recommended. There are plenty of them and it's no real surprise that the majority of them are in the warmer climate of the North Island. All of them accessible in your motorhome!
2. Places where you can 'get your kit off' in NZ
- On a beach

NZ only has 'unofficial' nude beaches or better put beaches where nudity is known to happen. These are known as clothes optional beaches. If you like to skinny dip or bathe in the sun in just your birthday suit then it's easy to find your own secluded, undisturbed spots, especially along NZ's remote coastline areas. For a complete 2016 list of NZ's clothing optional beaches and how to get to them in your rental motorhome, click here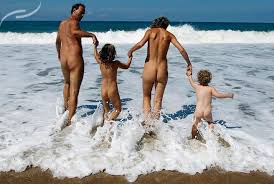 - Nudist Clubs
Nudist clubs in New Zealand are private though they will welcome visits from genuinely interested people and groups. You may need to prove your general interest in naturism and it's a good idea to get an INF card (International Naturist Federation) membership card as you will receive a better reception and possibly even a discount!
For a comprehensive list of naturist clubs and/or nude events, you could visit the New Zealand Naturist Federation website. This year from the 16th ~ 20th November. Wellington Naturist Club is very happy to be hosting the 2016 World Congress of Naturism!
- Clothing Optional Resorts and Accommodation
There are no 100% all naturist accommodation spots in NZ but there are many no clothing optional resorts, homestays, bed and breakfast and even backpackers that you can stay at and these are normally run by naturist enthusiasts themselves. One such place is the Katikati Naturist Park at Katikati, near Tauranga in the Bay of Plenty, North Island.
This is a modern holiday park with a full range of recreation and accommodation facilities that provide a safe and secure environment in which to enjoy being clothes-free. They also claim they have had many curious campers re-think their preconceptions and become happy customers!
In Northland, you could try Waiata Bay 24 hectares of open coastal and farmland. Open from the 1st of November to the 15th of April
- In a Campervan
Of course, you can go naked in your own hire campervan just be careful not to forget where you parked last night! In NZ there are many secluded places you can get to in a motorhome where you won't be disturbing anyone. These spots along with the resorts mentioned above represent a good chance to just 'park-up' in a campervan, relax and enjoy the sunny weather how you like to.
4. Take into account the NZ Sun
Don't forget the NZ sun is notorious for sunburn and the burn time is the shortest anywhere in the world. Using a high UPF rated sunscreen is recommended all through summer, even on days when it's cloudy and doesn't feel that hot. If you want to enjoy 'wearing only your smile' all summer, avoid getting burnt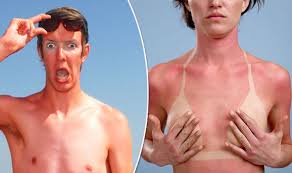 5. Nude Fun
If you're lucky enough, or unlucky enough as the case may be, you might be in Dunedin when the NUDE Blacks are playing! They play each time there is an All Blacks test match in the city. The next one is the 25th June 2016 against Wales! This is a big choice to make, either pay to see the All Blacks or take your motorhome and be amongst the other 2500 people (no joke) going to see the Nude Blacks!