Auckland to Kaitaia to Auckland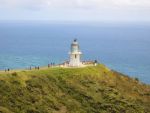 Escape to the temperate climate of the upper North Island and enjoy the beautiful beaches and bays.
Passing through Auckland , for 7 days
Day: 1 - Auckland
Start your holiday off in style and take a sail boat cruise around the harbour and surrounding islands.
If spending a day on a boat is not quite your idea of fun, head to the bird sanctuary of Tiritiri Matangi, a small island that is home to beautiful native bush and birds.  This is the perfect place to stretch your legs and take in some of the beautiful scenery and native bush that New Zealand has to offer.
Day: 2 - Auckland to Whangarei
Keep to the east coast of the island and head north to Whangarei, New Zealands most northern city.
A must-see on the way to Whangarei is the Goat Island marine reserve.  Located in Leigh approximately one hours' drive from Auckland CBD you will be amazed by the fish life present within the reserve.  Snorkel, kayak, dive or swim, you will leave feeling energized!
Day: 3 - Whangarei
Welcome to Northland New Zealand.  Known as an 'aquatic playground' you will be spoiled for choices of beeches, harbours, dive sites and walkways.
Stroll down to the harbour and stop in to a cafe where you can enjoy brunch overlooking nearby moored yachts.  With plenty of galleries and arts and crafts stores to visit time will pass un-noticed.
Day: 4 - Whagarei to Russell
Visit New Zealand's historic town of Russell and visit the graveyard where bullet holes can still be seen in the church!
For those that enjoy being on the sea take yourself on a dolphin encounter or try your luck fishing off one of the many fishing charter boats.
For land lovers take a visit to Waitangi where you can experience where one of the most historic moments of New Zealand took place.
Day: 5 - Russell to Kaitaia
Kaitaia is the most northern town of New Zealand.  Take a visit to Cape Reinga Lighthouse and be mesmerised as the currents of the Pacific Ocean and the Tasman Sea meet.
Try your hand at surf casting on Ninety Mile beach or try out dune surfing - just make sure you remember to keep your mouth closed!
Dine on fresh seafood at one of the local restaurants while tasting some locally produced wine or enjoy some of the best fish and chips on offer while taking in the view of a local beach.
Day: 6 - Kaitaia to Waipoua Forest to Whangarei
Take your time as you drive back to Auckland via the west coast and stop along the way at the many bays and beaches that you will encounter.
Take a visit to Waipoua Forest, home of rare New Zealand flora and fauna including the native kauri tree.  Try and wrap your arms around the largest kauri tree in New Zealand named Tane Mahuta, 'Lord of the Forest' which is said to be 1,200 years old.
Continue south until you reach Whangarei and spend the night re-visiting favourite spots or encountering new places.
Day: 7 - Whangarei to Auckland
Return to Auckland via the west coast making sure you stop into Dargaville.  A place for every one of all ages a short stop will help stretch your legs from the driving.