Auckland to Napier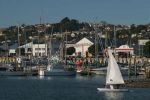 Enjoy the natural and cultural wonders of the North Island.
Passing through Auckland , Napier, 10, for 3 days
Day: 1 - Arrive Auckland
Enjoy the outstanding food and wine that New Zealand's largest city has to offer, whether at the top of SKYCITY Tower in the heart of the city or at a vineyard on Waiheke Island.
Day: 2 - Auckland to Rotorua
Be amazed by the natural volcanic wonders of Rotorua - bubbling mud, erupting geysers and therapeutic hot pools will astound you!  For the evening enjoy a traditional Maori experience at one of the Maori concerts performed nightly.
Day: 3 - Rotorua to Napier
A delight for the wine connoisseur, Napier is home to some of New Zealand's oldest wineries.  Take advantage of the flat roads and enjoy a bike tour around the wineries.  Relax amongst the fabulous art deco buildings or take a stroll along the palm-tree lined marine parade that runs along the shore of the city.