Napier to Auckland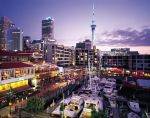 Explore the east coast of the upper North Island.
Passing through Auckland , 13, Napier, 9, for 6 days
Day: 1 - Napier
Napier is a destination that suits all seasons.  Spend the day admiring the art deco buildings that have given Napier the title of Art Deco City or take a guided or self tour around some of New Zealand's oldest wineries.
Relax in one of the many cafes in the heart of Napier or visit the National Aquarium of New Zealand for glimpse into the underwater world.  No matter what your interests you are sure to find many attractions that will suit.
This is one of the best locations to spend a few days exploring if you have the extra time.
Day: 2 - Napier to Gisborne
Enter onto the Pacific Coast Highway touring route (State Highway 2) and make your way north to Gisborne.  Stop en route at Mahia Peninsula Scenic Reserve and beach - a great spot for fishing, surfing, swimming and diving.
Upon arrival ensure you make a detour to Kaiti Beach, the landing site of Captain Cook which is now a national reserve.  Heritage trails designed around the city and district will lead you to key places of historical significance.
Gisborne is well known for its Chardonnay wines, so spend time in the afternoon tasting some award-winning wines from the region.
Day: 3 - Gisborne to Tauranga
Driving along the Pacific Coast Highway make your way to Tauranga.  This region seems to have it all - a mild, sunny climate, some of the country's most popular beaches and an abundance of orchards, especially kiwifruit, avocado and citrus.

The clear pristine waters of the Bay of Plenty offer the ultimate marine encounter, the opportunity to swim with, or just observe, dolphins in their natural environment. Other oceanic based activities include diving, game fishing, underwater photography and surfing to name a few.
Late afternoon is a great time to hike up Mauao - a historic pa site situated at the harbour entrance in the Mount - and watch boats as they come back from a day of fishing.  Reward yourself in the evening and go for a soak in the Mount Maunganui hot salt water pools which is conveniently located at the base of Mauao.
Day: 4 - Tauranga to Whitianga
Continue on the Pacific Coast Highway north to Whitianga making sure to stop briefly and admire the murals of Katikati.
Whitianga is a great beach holiday spot, with fish to catch and shellfish to gather. The relatively sheltered waters of the bay are great for all water sports.
Indulge in a fun and adventurous high ropes course at High Zone, designed for all ages and levels of fitness.  Afterwards, take a detour to Hot Water Beach - for two hours either side of low tide, visitors can dig in the sand for hot spring water and make their own spa pool.
A walk along Buffalo Beach is a perfect way to end the day in Whitianga.
Day: 5 - Whitianga to Coromandel Town
Take State Highway 25 to Coromandel Town making sure you divert to Whangapoua - a 20-minute walk takes visitors to New Chums Beach, one of the Peninsula's most beautiful, unspoiled golden sand beaches.
In 1852 the discovery of gold at Driving Creek brought a boom to Coromandel Town. A lot of history dating from that time is still evident in the Town today: old buildings, artefacts and atmosphere.
Take a ride on New Zealand's only narrow-gauge mountain railway or enjoy a five-minute walk from 309 Road to Waiau Falls, which ends at the foot of the falls. The 309 kauri trees (one kilometre further east) make up the finest easily accessible stand of kauri on the Peninsula.
If you are able to extend your itinerary by a day or so there are plenty of attractions and activities to keep you busy.  Take yourself on the Coromandel walkway: the longest coastal track in the region, three hours one way between Fletchers Bay and Sandy Bay or explore the remote bays and headlands of Port Jackson, Fletchers Bay and Cape Colville at the top of the Peninsula.
Day: 6 - Coromandel Town to Auckland
Follow the Pacific Coast Highway to Thames and journey through the Hauraki Plains to the beautiful Clevedon Valley region of Auckland in your motorhome, the beginning of the Pacific Coast Highway touring route.
Clevedon Village is set in a quaint rural setting and provides a great opportunity for afternoon tea. Visit the Clevedon Woolshed, which offers locally made art and craft.
Enter into Auckland and treat yourself to some local fish and chips while watching the sun set from Mission Bay beach.