Queenstown to Christchurch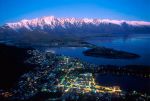 This journey will take you from the scenic mountains to the wild southern coast.
Passing through Christchurch, Queenstown, for 5 days
Day: 1 - Queenstown
Enjoy the adrenalin buzz that Queenstown has to offer by participating in one of their many activities on offer.
Interested in culture?  Take yourself down to Queenstown's lake-edged Steamer Wharf where local artists display and sell their creations or try your hand at panning for gold just like the early settlers of the region did.
Day: 2 - Queenstown to Te Anau
Discover the beauty of this small township and use it as a base to explore Milford Sound.  Known for its high vertical cliffs and challenging walks Milford Sound is the perfect scenery wonderland.
Take a chartered cruise through the Sounds or just sit back and be inspired by the beauty of the area.
Day: 3 - Te Anau to Catlins to Invercargill
Considered a major highlight of the Southern Scenic Route this rugged area will astound you.
Journey to hidden lakes and stunning waterfalls, enjoy the remoteness of the area as you view yellow-eyed penguins, seals, native birds and an ancient petrified forest.
Enjoy the unspoilt nature of this area before heading to Invercargill for the night.
Day: 4 - Invercargill to Dunedin
Known for the friendliness and hospitality of its local community, Invercargill will keep you busy all morning with a combination of reserves, parks and cultural attractions.
Try the local delicacy, the bluff oyster before heading north to Dunedin.
Day: 5 - Dunedin to Christchurch
Discover New Zealand's pioneering history by taking a guided tour of the city that ends at the Otago Settlers Museum.
For nature lovers, head out to the peninsula to view the only mainland breeding colony of albatross and to view seals and yellow-eyed penguins.
Wander around the gardens of Larnach Castle, the only castle in New Zealand, or take a stroll through the botanical gardens.
After a day of walking continue your journey to Christchurch where you can reqard yourself with a night out at one of the many local restaurants.