Cheapa 2 berth ST (FLEX RATES) 2017
ABOUT CHEAPA
Cheapa is the secondary (older) fleet of Apollo. Apollo is a trusted brand throughout New Zealand. While Cheapa vehicles are older/higher mileage, as part of the Apollo Vehicle Rentals, they benefit from the same commitment to personalised service and competitive rates that has seen the Apollo grow to become the largest privately owned leisure vehicle operator in the world.

THE MOTORHOME
The Cheapa 2 berth ST is the cheapa alternative for those travellers wishing to discover New Zealand in style. Features include 240V heated/air-conditioned cabin and living space, shower and toilet, large double bed and fully equipped kitchen including a microwave, gas stove and fridge.
Even with all these features there is still ample storage space to enjoy a relaxing holiday. For budget conscious travellers, the Cheapa Campa 2 Berth S/T is excellent value. Average age 4yrs.
Children under the age of 8 years old cannot travel in this vehicle. This Motorhome is Certified Self Contained and is permitted at all freedom camping spots.

IS THIS MOTORHOME CERTIFIED & SELF CONTAINED?
YES! Motorhomes that are Certified Self Contained are permitted at all freedom camping spots. For a comprehensive list of Freedom Camping spots in NZ click here
Sorry, Vehicle Discontinued
Sorry, this vehicle is discontinued.
We do however have many others to choose from, including the selection below. Please contact us for availability: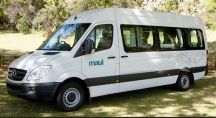 The maui Ultima Plus is ideal 2 adults and 1 child! This innovative, certified self contained vehicle comes with toilet, shower and kitchen facilities, with plenty of space for the family of 3! With automatic transmission, this vehicle is perfect for...
The Maui Ultima 2 berth Toilet/Shower offers the comfort of an apartment on wheels with extras such as a versatile bed & living area set up, the largest bed in the industry, external slide-out BBQ, loads of storage plus TV screen & DVD player. Ave ...
Daily Hire Rental Rate Includes
- Unlimited kilometers
- 15% GST (Goods & Services Tax)
- Kitchen Kit
- Pre-hire Cleaning Fees
- Vehicle Consultation Fee
- 24hr Roadside Assistance
- Camp Ground Guides
-Skoot Camper Tablet
- Complimentary Airport Transfers

QUOTED STANDARD RENTAL RATES DO NOT INCLUDE
LIABILITY EXCESS INSURANCE OR BOND
3% ADMIN FEE ON TOTAL HIRE COST
ROAD USER CHARGE
EXTRA DRIVERS FEE
LINEN AND BEDDING
ONE WAY FEES
General Hire Information
Quick Reserve
If you don't have time to complete a full booking now, complete this short form and one of our team will get in touch to assist you with your booking.
Motorhome Features
AirCon - Driver
Full Rear Access
Power Steering
Fly Screens
Double Bed
Shower
Toilet
Hot Water
Cold Water
Electric Heating
Two Ring Cooker
Three Ring Cooker
Grill
Fridge Freezer
Fridge
Utensils
Microwave
CD Player
Radio
Optional Hire Equipment
Kruse Commentary System
1/4/2019: Drop & Go. Return the vehicle neat & tidy and Cheapa will clean the cabin and bathroom.
Baby seat
Booster seat
Heater/fan
Snow chains
Camp Table
Camp Chair