Discover 2 ST
ABOUT DISCOVER
Discover are a great company to work with having a number of depots in both the North Island and South Island. They offer a range of vehicles of varying ages/prices covering the spectrum from
Budget through to luxury and from 2 berths to 6 berths. A highly reputable company with friendly personal service and courtesy transfers.

THE MOTORHOME
The Discover 2 ST is an attractive, well-equipped, competitively priced motorhome, ideal for a couple or an adult and a child and who prefer an interior shower and toilet. Diesel engine with economical running costs even over long distances. Huge double bed 1x Double (2.0m x 1.75m) or 2 singles. 2008 Merc Benz Models. This vehicle is certified self contained and ideal for freedom camping.
Sorry, Vehicle Discontinued
Sorry, this vehicle is discontinued.
We do however have many others to choose from, including the selection below. Please contact us for availability: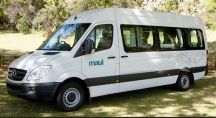 The maui Ultima Plus is ideal 2 adults and 1 child! This innovative, certified self contained vehicle comes with toilet, shower and kitchen facilities, with plenty of space for the family of 3! With automatic transmission, this vehicle is perfect for...
The Maui Ultima 2 berth Toilet/Shower offers the comfort of an apartment on wheels with extras such as a versatile bed & living area set up, the largest bed in the industry, external slide-out BBQ, loads of storage plus TV screen & DVD player. Ave ...
Daily Hire Rental Rate Includes
Extra Driver fee
Unlimited Kilometres
Vehicle living equipment
Standard Discover vehicle Insurance
Goods & Services Tax (GST) of 15%
Road Maps and other tourist information
Cleaning fees and pre departure vehicle preparation
24 hour roadside assistance throughout New Zealand
Free transfers on vehicle pick up from Airport or City to the Discover Depot
General Hire Information
Quick Reserve
If you don't have time to complete a full booking now, complete this short form and one of our team will get in touch to assist you with your booking.
Motorhome Features
AirCon - Driver
Full Rear Access
Power Steering
Double Bed
Single Bed
Linen
Shower
Toilet
Hot Water
Cold Water
Gas Heating
Two Ring Cooker
Grill
Fridge Freezer
Fridge
Utensils
Microwave
TV
CD Player
DVD Player
Radio
Optional Hire Equipment
Kruse Commentary System
Booster Seat: child 3-5 year (for Imala only)
Navman GPS
Foldaway Chairs & Table
Baby Seat: newborn - 3 years (for Imala only)