ONLINE SINCE 2001 - Professional, Friendly and Competent!
Freedom 2-3 Berth 4WD Bushcamper (Toyota Landcruiser)
---
Company & Camper Info
ABOUT FREEDOM
Freedom are Tui motorhomes secondary (older) fleet, and as such enjoy all the support and security associated with one of the larger motorhome rental companies in New Zealand. Models age from 1996 to 1999. They are an excellent choice for hirers on a limited budget. They have a wide selection of models and generally have good availability

THE MOTORHOME
Drive and navigate this Toyota Landcruiser 4WD Bushcamper yourself over remote private farm tracks and up rugged mountain passes, cross rivers without bridges. You don't have to rough it, even in the toughest outback terrain, when you are travelling in a 4WD Bushcamper 4-Wheel Drive. Venture to those places you may otherwise never get to see. 1996 Model.

---
Sorry, Vehicle Discontinued
Sorry, this vehicle is discontinued.
We do however have many others to choose from, including the selection below. Please contact us for availability: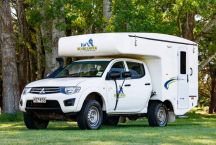 The Tui unique 4 berth Bushcamper is perfect for off-road family adventures. A 4WD camper with dual cabin! This vehicle is ideal for up to four people and the passengers can sit directly behind the driver which is not only safer, but also more comfor...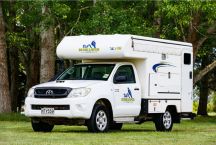 If you are interested in off the beaten track outback adventure, flying fishing, trekking, 4WD adventures, camping off the beaten track and for a taste of true pioneering sprint, drive and navigate yourself in a Tui Bush Camper 2 Berth 4-Wheel Drive....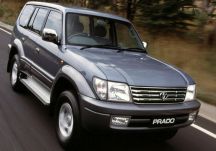 These versatile SUVs are perfect for getting out and exploring what New Zealand has to offer. Very popular with skiers, there is plenty of room for both the skiers and the ski gear. If you are going to Queenstown this really is the essential vehicle ...
Daily Hire Rental Rate Includes
Extra Driver fee
Unlimited Kilometres
Vehicle living equipment
Goods & Services Tax (GST) of 15%
Comprehensive road atlas supplied on loan.
Standard TUI Campervans Vehicle Insurance
Free starter pack, Regional and activities guide.
Cleaning fees and pre departure vehicle preparation
24 AA roadside assistance throughout New Zealand
Free transfers on vehicle pick up from Airport To the TUI Campervans Depot
General Hire Information
GENERAL TERMS AND CONDITIONS

INSURANCE OPTIONS
STANDARD RATE leaves you still to pay a Bond/Excess of NZ$2500 (Imprint only - NZ$3400 for drivers 21 - 25 years). Note NZ$15 per day compulsory insurance charge applies which will be added to the quote on reservations page. Options as below can be taken to reduce bond/excess. (Options are payable at the depot at vehicle pick up time).

Insurance option with Standard Rate:
Bond waiver option - NZ$40 per day reduces bond to Nil (drivers over 25), NZ$47 per day (drivers 21 to 25).

ROAD USER CHARGE (DIESEL VEHICLES)
The Road User Charge is NZ$5.80 per 100kms, payable at the end of the hire. The Road User Charge is included in the Bond Waiver insurance.

PUBLIC HOLIDAY SURCHARGE
Please a Public Holiday Surcharge of NZ$50 applies to pickups on Boxing Day and New Years Day

DEPOT/PICK UP & DROP OFF LOCATIONS
NORTH ISLAND
Auckland (Depot)
Wellington - Pick up and/or drop off Location (Wellington Airport)

SOUTH ISLAND
Christchurch (Depot)
Picton - Pick up and/or drop off Location (Picton Ferry Terminal)
Nelson - Pick up and/or drop off location (Nelson Airport)
Queenstown - Pick up and/or drop off Location (Queenstown Airport)
Dunedin - Pick up and/or drop off Location (Dunedin Airport)
Greymouth - Pick up and/or drop off Location (Greymouth Train Station)

FOR PICK UP & DROP OFF LOCATIONS OTHER THAN CHRISTCHURCH AND AUCKLAND THE MINIMUM HIRE IS 14 DAYS ALL THROUGHOUT THE YEAR - THIS INCLUDES SAME PICK UP & DROP OFF LOCATIONS (Queenstown/Queenstown, Dunedin/Dunedin, Greymouth/Greymouth, Picton/Picton, Nelson/Nelson, Blenheim/Blenheim, Wellington/Wellington)
The Location surcharge fee for all above pick up and drop off locations (except Christchurch & Auckland) is NZ$650. If picking up and dropping off in same location then fee is NZ$1300). Note: Picton pickups. Picton pickups are only available in the morning.
No pick ups or drop offs at remote locations from 20 December to 10 January (inclusive)

ONE WAY FEES
One way fees apply between South and North Islands and North and South Islands, and with a minimum 14 days in duration.
Where pick-ups originate from Christchurch and return to Auckland and the pick-up is between 1 April 2017 and 30 September 2017- no one way fee applies. A Location Surcharge fee applies for locations other than Auckland and Christchurch.

LOCATION SURCHARGES
A surcharge for locations other than Auckland and Christchurch applies of NZ$650 (As the company does not have a depot in this location, and the vehicle needs to be relocated from/to elsewhere. The fee is to cover the costs involved in relocating the vehicle). No remote location hires from 20 December to 10 January inclusive.

MINIMUM HIRE PERIOD
The minimum hire period is 5 days.

DRIVERS LICENSES
All drivers must be at least 21 years old and hold a full and current New Zealand driver's licence, or an International Driving Licence, or a licence from the country of origin with English translation.

TUI FULL TERMS AND CONDITIONS
These can be e-mailed to you by request. If you wish to view the full Terms and Conditions please request on our contact page, click here
Quick Reserve
If you don't have time to complete a full booking now, complete this short form and one of our team will get in touch to assist you with your booking.
Motorhome Features
Power Steering
Fly Screens
Double Bed
Single Bed
Linen
Cold Water
Two Ring Cooker
Fridge
Utensils
Cassette Player
Radio
WiFi Connectivity
Optional Hire Equipment
Pocket WiFi Internet 5:5GB
Pocket WiFi Internet 3:5GB
GPS (Min Charge $70 - Max Charge NZ$140)
Side Awning/sun shade (4+1 Path Finder only)
Baby seat
Booster seat
Kinderkot
Porta cot (for Path Escape and Path Explorer)
High Chair
Power Inverter 12v-240v Ideal for recharging small appliances
Chilly/Eski Bin
Boogie Board
Snow Chains
Hand held Solar Shower
tent for shower
Combo of Solar shower and tent
Outside bbq (Includes gas bottle)
DVD player
Outdoor Chair
Outdoor Table
Vehicle Specifications
Features
Beds, Bedding and Linen
Optional Hire Equipment
Vehicle Dimensions
General Specifications
Driving Specifications
Seats / Seatbelts