ONLINE SINCE 2001 - Professional, Friendly and Competent!
Tui Bushcamper 2B
---
Company & Camper Info
ABOUT TUI
Tui are one of the larger motorhome rental companies in New Zealand. Models are from 2009+ but most are newer. They are an excellent choice for hirers looking for something reasonably new without breaking the bank. They have a wide selection of models from 2 berths to 6 berths and generally have good availability. 3 depot locations and courtesy transfers. Pick ups from Queenstown Airport, Dunedin Airport, Wellington Airport, Picton Ferry Terminal, Nelson Airport and the Greymouth Train Station are available on application for a relocation fee of NZ$745 prior arrangement only. Operational times are restricted by travel limitations and by bus/air/train times.

THE MOTORHOME
If you are interested in off the beaten track outback adventure, flying fishing, trekking, 4WD adventures, camping off the beaten track and for a taste of true pioneering sprint, drive and navigate yourself in a Tui Bush Camper 2 Berth 4-Wheel Drive. The Tui 2 berth Bush Camper is a 4WD unique camper and perfect for off-road family adventures. The extra fuel capacity means you can travel for longer without having to stop and the indoor and outdoor cooking facilities allows you to enjoy a dinner under the stars or in cosy Tui Bush Camper. Special Features; Extra fuel capacity, Indoor/outdoor cooking, Rear air conditioning, Awning Pop top roof for extra space and ventilation. 2009 Toyota Hilux. Vehicle is not certified self-contained. Freedom Camping not permitted in this vehicle.

IS THIS MOTORHOME CERTIFIED as SELF CONTAINED?
NO! Motorhomes that are NOT Certified Self Contained are NOT permitted to camp overnight in freedom camping spots.



---
Sorry, Vehicle Discontinued
Sorry, this vehicle is discontinued.
We do however have many others to choose from, including the selection below. Please contact us for availability: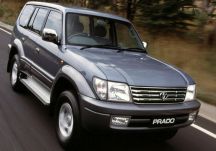 These versatile SUVs are perfect for getting out and exploring what New Zealand has to offer. Very popular with skiers, there is plenty of room for both the skiers and the ski gear. If you are going to Queenstown this really is the essential vehicle ...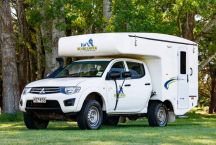 The Tui unique 4 berth Bushcamper is perfect for off-road family adventures. A 4WD camper with dual cabin! This vehicle is ideal for up to four people and the passengers can sit directly behind the driver which is not only safer, but also more comfor...
Daily Hire Rental Rate Includes
Extra Driver fee
Full water tank
Unlimited Kilometres
Maps and campground guides
Vehicle cleaning and grooming fee
Goods & Services Tax (GST) of 15%
All living, kitchen and sleeping equipment
Roadside assistance throughout New Zealand
Complimentary transfers to/from airport and airport hotels in Christchurch and Auckland
General Hire Information
GENERAL TERMS & CONDITIONS OF HIRE FOR TRAVEL BETWEEN 1st APRIL 2020 TO 31st MARCH 2021
If your travel dates are after 31st March 2021 T&C's may vary. If not currently published please email for clarification if required

INSURANCE OPTIONS for 4WD Bushcamper 2 Berth
STANDARD RATE leaves you still to pay a Bond/Excess of NZ$4,000 for drivers over 25 years or NZ$5,000 for drivers 21 - 25 years. Note NZ$15 per day compulsory insurance charge applies which will be added to the quote on reservations page. The liability excess applies in respect of each claim. (A Bond Waiver Option can be taken to reduce the Bond/Excess.) Tui Campers do not deduct the bond from the credit card, but merely hold the authority to deduct it in the unfortunate event of an accident.

Reduction option 1:
NZ$40 per day (drivers over 25), NZ$45 per day (drivers 21 - 25 years) (includes NZ$15 per day compulsory insurance) reduces bond to NZ$1800. Credit Card Imprint is required.

Reduction option 2:
NZ$60 per day (drivers over 25), NZ$65 per day (drivers 21 - 25 years) (includes NZ$15 per day compulsory insurance) reduces bond to Nil. Credit Card Imprint is required. This option includes: Zero excess, One windscreen replacement, Multiple windscreen chip repairs, Two tyre replacements, Pre-purchased LPG bottle, Road tolls, Lost/damaged key replacement costs, Toilet chemical starter kit, GPS, Baby/Booster seat (on request), Picnic Table and Chairs, Snow Chains (on request).

Where a credit card is not available, a cash bond will be held by Tui Campers for 21 Days following hire. For customers who are using debit cards for the security deposit, due to the limitations within terms of use for debit cards these are treated as cash and the full excess will be debited unless the bond waiver is purchased and then a signed imprint will be taken.

If Standard Rate is selected, additional insurance cover options are available at the depot:

Windscreen/Tyre Insurance (WTI)
This option can be purchased by paying an additional NZ$9 per day to provide protection for damage to the front windscreen and tyres. Included is two tyre replacements, multiple tyre punctures, one windscreen and multiple windscreen chips.

ROAD USER CHARGE (DIESEL VEHICLES)
The Road User Charge is NZ$6.90 per 100kms for all Diesel 4+1, Bushcampers and 2 Berths S/T, and NZ$7.20 for 4 and 6 Berth S/T, payable at the end of the hire.

PUBLIC HOLIDAY SURCHARGE
Public Holiday vehicle collection and returns will incur a one off fee of $60 to be paid at pick up. Tui Campers is open on the following Public Holidays: 1st and 2nd January, Waitangi Day, Good Friday, Easter Monday, ANZAC Day, Queens Birthday, Labour Day, Boxing Day, Auckland and Christchurch anniversary days.

DEPOT/PICK UP & DROP OFF LOCATIONS
Pick up available from locations - Auckland and Christchurch and include the following remote locations Queenstown Airport, Dunedin Airport, Wellington Airport, Picton Ferry Terminal, Nelson Airport and the Greymouth Train Station and are available on application for a relocation fee of NZ$745 prior arrangement only. Operational times are restricted by travel limitations and by bus/air/train times (see Location Surcharge information, below).
Drop offs available - Auckland or Christchurch only.

NORTH ISLAND
Auckland (Depot)
Wellington - Pick up only (Wellington Airport)

SOUTH ISLAND
Christchurch (Depot)
Picton - Pick up morning only (Picton Ferry Terminal)
Nelson - Pick up only (Nelson Airport)
Queenstown - Pick up only (Queenstown Airport)
Dunedin - Pick up only (Dunedin Airport)
Greymouth - Pick up only (Greymouth Train Station)

ONE WAY FEES
One way fees apply between North and South Islands, and South and North Islands, with a minimum 14 days in duration.
Where pick-ups originate from North Island and return in South Island and the pick-up is between:
– 1 April and 30 September – a one way fee of NZ $100.00 applies.
– 1 October and 31 March – a one way fee of NZ $200.00 applies.

Where pick-ups originate from the South Island and return to the North Island and the pick-up is between:
– 1 April and 30 September – no one way fee applies.
– 1 October and 31 March – a one way fee of NZ $100.00 applies

LOCATION SURCHARGES
A surcharge of NZ$745 applies for locations other than Auckland and Christchurch (As the company does not have a depot in this location, the fee is to cover the costs involved in relocating the vehicle). From 1 October to 30 April a 14 day minimum hire period applies. No remote location hires from 20 December to 10 January (inclusive). From 1 May to 30 September a 7 day minimum hire period applies.

MINIMUM HIRE PERIOD
The minimum hire period is 5 days. From 20 December to 10 January inclusive there is a minimum hire of 14 days. No remote location hires from 20 December to 10 January inclusive.

DRIVERS LICENSES
A valid full (non-provisional) national drivers licence is required. Non-English language national drivers licences must be presented in conjunction with an official translation or valid international drivers licence. The minimum age is 21 years. Additional drivers must meet all Tui Campers rental requirements, be at the depot at time of vehicle pickup with their driver's license and sign the rental agreement.

CANCELLATION FEES
29 days and over prior to pick up the deposit is retained with a minimum of NZ$250.
20 - 29 days prior to pick up 20% of total reservation cost (or the deposit whichever is the greater).
10 - 19 days prior to pick up 40% of total reservation cost.
1 - 9 days prior to pick up 75% of total reservation cost.
No Show or hire cancelled at time of pickup 100% of total reservation cost.

AMENDMENTS TO BOOKINGS
• Amendments to increase the length of the booking can be made at no cost.
• Amendments to decrease the booking will be charged at a minimum of NZ$60.00 provided the amendments occur at least 30 days prior to departure date.
• If rental dates are amended within 14 days of the vehicle pick up, no refund will be made if the hire is shortened.
• If the pick up or drop off rental location is amended within 14 days of vehicle pick up, a relocation fee may apply.

TUI FULL TERMS AND CONDITIONS
These can be e-mailed to you by request. If you wish to view the full Terms and Conditions please request on our contact page, click here
Quick Reserve
If you don't have time to complete a full booking now, complete this short form and one of our team will get in touch to assist you with your booking.
Motorhome Features
AirCon - Driver
Power Steering
Fly Screens
Double Bed
Cold Water
Electric Heating
Two Ring Cooker
Fridge
Utensils
CD Player
Radio
WiFi Connectivity
Optional Hire Equipment
Windscreen/Tyre Insurance
Pocket WiFi Internet 3:5GB
Pocket WiFi Internet 5:5GB
GPS (Min charge NZ$70 - Max charge NZ$140)
Power Inverter 12v-240v Ideal for recharging small appliances
DVD Player
Side Awning/sunshade (Trail Finder 2-3 and 4+1 models only)
Baby Seat (NB to 3 years) Must be pre-booked
Booster Seat (14-32kg) Must be pre-booked
Kinderkot (0 - 4 years)
Porta cot (Trail Explorer only)
High Chair
Chilly/Eski Bin
Boogie Board
Snow Chains
Hand held Solar Shower
tent for shower
Combo of Solar shower and tent
Barbeque
Outdoor Chair
Outdoor Table
Vehicle Specifications
Features
Beds, Bedding and Linen
Optional Hire Equipment
Vehicle Dimensions
General Specifications
Driving Specifications
Seats / Seatbelts