Group G: 7 seater Mitsubishi Grandis (Britz)
The Mitsubishi Grandis or similar is a stylish 7 seater people with all the luxuries you expect including air conditioning and automatic transmission.

Basic Insurance cover Included in daily rate
Refundable bond (Insurance excess) NZ$1,800 (debited)
Bond reduction waiver for NZ$19 per day: excess Nil, bond reduced to NZ$220 (imprint)
For Australia and New Zealand residents, Bond reduction waiver for NZ$15 per day reduces excess to Nil


Sorry, Vehicle Discontinued
Sorry, this vehicle is discontinued.
We do however have many others to choose from, including the selection below. Please contact us for availability: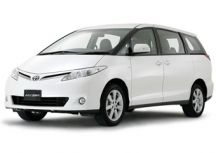 Minivan 7 or 8 Seater - Toyota Estima (Previa, Torago), year 2005+. Space for the whole family. Great for the whole family or a group of friends! Many people choose these over the traditional station wagon as this vehicle has handling characteristics...
Daily Hire Rental Rate Includes
INCLUDED IN GROSS RATES
• Unlimited kilometres
• Vehicle insurance (excess applies, see information under the heading "for your protection – vehicle excess")
• 15% GST
• Extra driver fees
• One-way rental fees
• Airport transfer on pick-up and drop-off
• Customer Care 24 hour road service helpline (toll free)
• Travel Wallet including road maps and travel information

General Hire Information
Quick Reserve
If you don't have time to complete a full booking now, complete this short form and one of our team will get in touch to assist you with your booking.
Motorhome Features
AirCon - Driver
Central Locking
Power Steering
CD Player
Cassette Player
Radio
Optional Hire Equipment
Extra Driver Fee (Included in The Bundle & All Inclusive Insurance)
Outdoor Chair
Outdoor Table
The Bundle Pack
Includes WiFi 1GB, Linen Exchange, Picnic table + chairs, Extra driver fees, On request: Baby /Booster seat, portable fan heater
Extra duvet/doona
Portable Fan Heater (Included in The Bundle & All Inclusive Insurance)
Convertible Child Seat cost per hire
Suitable for Child 0-4 Years Old
Booster Seat cost per hire
Suitable for Child 4-7 Years Old
Set of Snow chains cost per hire
Souvenir Hema Road Atlas
for Purchase
Bike Rack (CANNOT be fitted to HiTop or Voyager) (Not avail from/to Queenstown)
Mountain Bike - BOND $400 (Not avail from/to Queenstown) (CANNOT be fitted to HiTop or Voyager)
1/4/19: Mountain Bike - BOND $400 (Not avail from/to Queenstown) (CANNOT be fitted to HiTop or Voyager)
First aid kit
Special Offers Available
Discount vouchers included with all rentals: