Subscribe to our Newsletters
Don't miss out!
Get the BEST motorhome hires straight to your inbox.
NEW! DUAL HOLIDAY OFFER!
Travel Both New Zealand & Australia
SAVE A MASSIVE 15% OFF Your DREAM Motorhome Holiday
OF A LIFETIME!
For many, traveling to New Zealand or Australia will be a once in a lifetime opportunity, why not make if New Zealand AND Australia?
New Zealand Motorhomes and Australian Campervans want to help make this easier for our customers to achieve so they've teamed up to bring you a massive 15% Discount OFF your entire trip.
Tempted? Great. Let's talk! This is a limited time offer
And here's how it works...
Book ANY Motorhome for ANY period of time in New Zealand and get 7% OFF!
Book ANY Motorhome for ANY period of time in Australia and get 8% OFF!
IN ORDER TO REDEEM YOUR DISCOUNT PLEASE USE SPECIAL OFFER CODE: DUALHOLIDAY
Enter it at the time of booking - it's on page 2, just here...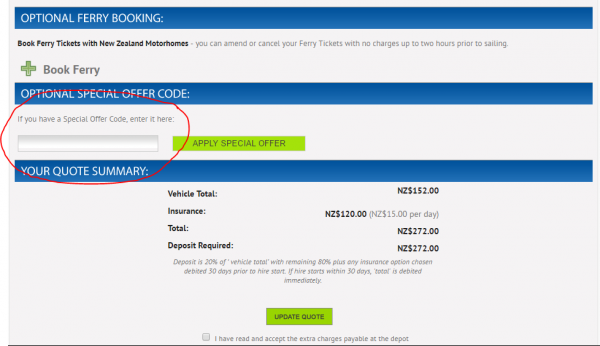 T's & C's

YOU MUST BOOK MOTORHOMES IN BOTH COUNTRIES FOR THE SPECIAL OFFER CODE TO BE VALID
Discount is off daily rental hire rate only and not off insurance costs
Not to be used in conjunction with any other special offer code
Offer ends 2018

Want to check availability first?
No problem we'd love to help. Contact us by email and tell us your travel dates and requirements or call us FREE from lots of countries around the world OR message us on Facebook we love to connect! Don't forget to mention this offer!