Subscribe to our Newsletters
Don't miss out!
Get the BEST motorhome hires straight to your inbox.
5% OFF YOUR SLEEPERVAN HIRE - LIMITED TIME ONLY!
Apply Special Offer Code: SLEEPER in the promotional code box found on page 2 of the booking pages (as shown below) to save 5% off your next Sleepervan hire!
To view what's available in the Sleepervan range click here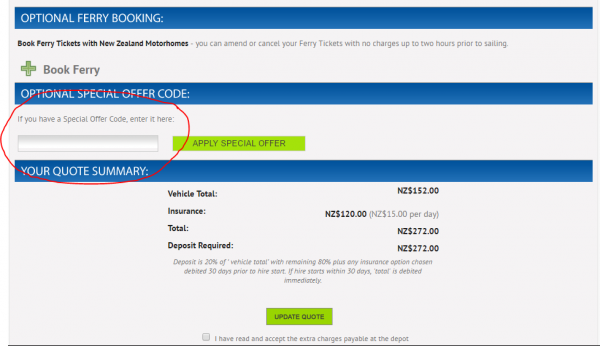 T's and C's
MINIMUM 10 DAY HIRE
TRAVEL FROM NOW TILL 15TH DECEMBER
VALID ONLY WITH SLEEPERVAN HIRES
If booking over the phone please quote the code to our friendly staff
If you have any questions about this offer please email us (enquiries@newzealand-motorhomes.com) or call us on the toll free numbers below or connect with us on Facebook or Twitter. We always reply to your enquiry!
WANT MORE OFFERS & SPECIAL DEALS ON MOTORHOMES?
If you need a good price on a motorhome hire let's talk! Connect with us - We ALWAYS reply to your enquiry
OR CONTACT US! - We'd LOVE to help you!