ONLINE SINCE 2001 - Professional, Friendly and Competent!
---

Please wait whilst we search for Motorhomes matching your criteria.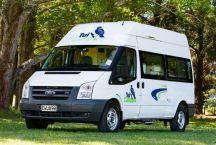 Campervan Overview
This vehicle is all about luxury on 4 wheels, designed with all the features of a full sized motorhome for maximum living in an easily navigable space. It offers practical, easy living with multiple access options for great indoor/outdoor flow. It's the perfect adventurer's vehicle – imagine coming home after a busy day of activities to the aroma of freshly brewed coffee and surrounded by all the comforts on the road. The luxurious interior has a cosy design to enjoy everything at your fingertips with ample space to stretch and relax on your king size bed. 2011-2014 Ford Transit
The Tui Trail Seeker has been certified as self contained. Permitted to freedom camp in designated areas.
NZ$800 Location surcharges apply each way if picking up outside of Auckland & Christchurch - see Full Quote page for details



---
Campervan Overview
The Cheapa 2 berth ST is the cheapa alternative for those travellers wishing to discover New Zealand in style. The Cheapa Campa 2 Berth S/T is excellent value. Ford/VW. Children under the age of 8 years old CANNOT travel in this vehicle. Yes - this Motorhome is Certified Self Contained and is permitted at all freedom camping spots.


---
Campervan Overview
This deluxe campervan offers all the inclusions of a motorhome. The vehicle's convenient layout allows easy access to all its quality fixtures and fittings. Air-conditioning (driver cabin only) & heating, (Gas & 240V) shower, toilet, large double bed and fully equipped kitchen including microwave (240v), gas stove and refrigerator.
The reliable 2.4 Litre turbo diesel engine, power steering and rear vision camera allows for easy handling and a smooth ride.
Baby/Booster seats CANNOT be fitted with this model. This vehicle is certified self contained and ideal for freedom camping.




---
Campervan Overview
Enjoy the comfort of a double bed, hot shower, kitchen appliances and your own loo in your campervan – all the basic essentials you need. Microwave yourself some popcorn in this super roomy campervan that sleeps 2. Includes a handy toilet and shower so you've got everything you need.
For a fantastic New Zealand road trip adventure, hire the Mighty Deuce today. Vehicle between 5 -9 yrs age Mercedes or similar. 2 seat belts. Children under seven years must not travel in this vehicle (child or booster seat cannot be fitted in this vehicle). This vehicle is certified self contained and ideal for freedom camping in designated areas.


---