ONLINE SINCE 2001 - Professional, Friendly and Competent!
---

Please wait whilst we search for Motorhomes matching your criteria.
Campervan Overview
Economically priced, the Pod Economy rental vans are set up so that you will have everything you need to camp. These vehicles have higher kilometres than the Pod Traveler models. Although campers are not certified self contained, there is a cassette toilet, and a sink with a pump faucet for cold water, a gas cooker, camping chairs & a camping table, thermal lined curtains, kitchen utensils, pots & pans and a chilli bin - All You Need For Camping! Plus the seating in the back folds down to make a genuine queen sized bed at night. There is plenty of storage underneath the seats or bed, so you will have no problem fitting packs or soft sided bags.
Not certified as Self-Contained. Some models are manual and some are automatic transmission. If wanting an automatic model, please request.


NZ$271.60
Total Daily Hire Rate:
---
Campervan Overview
Experience New Zealand in the always popular Apollo Hitop. This terrific campervan is ideal for couples. The Hitop is fitted with a gas stove, sink, microwave and refrigerator. With a 2.4L unleaded petrol engine it's easy to drive. The perfect choice for your touring needs. Vehicle age One to three years. This vehicle is not certified self contained


NZ$391.25
SALE
You Save NZD $109.55
NZ$281.70
Total Daily Hire Rate:
---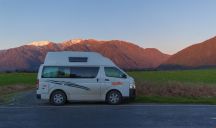 Campervan Overview
Economical family touring is the purpose of the custom built Endeavour Camper. Light, economical and easy to handle, this is the ultimate in no-fuss family road trips. This vehicle is great for families that need a 4 berth but are willing to forgo the onboard shower and toilet that are available in larger 4 berth motorhomes. Age of motorhome is Zero to three years old.
Has 2x anchor points for either 2x baby (from 6 months) or booster seats, or 1x baby and 1x booster seat. This vehicle is not self contained. Cannot freedom camp in this vehicle.


NZ$391.25
SALE
You Save NZD $109.55
NZ$281.70
Total Daily Hire Rate:
---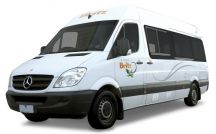 Campervan Overview
The Venturer Plus is designed with you and your growing family in mind! Room for 2 adults and 1 child, this cleverly designed vehicle comes with toilet, shower and kitchen facilities. With automatic transmission, this vehicle is a perfect for an easy family getaway. Mercedes-Benz models. Portable tablet with GPS. Seating for a third person behind driver (has child seat anchor point). This vehicle can fit either a child seat or a booster seat. Up to 5 years on fleet.
Certified as Self Contained and ideal for freedom camping. 2 bikes can be fitted with bike rack (additional cost).


NZ$296.00
Total Daily Hire Rate:
---
Campervan Overview
Based on the Volkswagen T5, this model offers a comfortable and economical 2 berth campervan rental option. There are three front seats with 3-point seatbelts and headrests. There is no passenger air-bag and as such, this vehicle also offers safe seating for 2 adults and 1 infant children.
Its 'L' shape kitchen layout and common setup of the rear bed, combine experienced camper manufacturing with quality German engineering.
The upper bed is ideally suited for a child up to 14 years or may be used for additional storage.
This hitop campervan is complete with everything you would expect in its class. The 85KW engine with a fuel consumption of 11l/100km will motor you across New Zealand at reasonable cost.
Location surcharges apply if picking up/dropping off outside of Auckland & Christchurch - see Full Quote page for details

NZ$299.52
Total Daily Hire Rate:
---
Campervan Overview
Toyota Hiace or similar, 2004 - 2005. Interior refit in 2010. The Lucky Rover is a 4 sleeper and boasts a cooker, a fridge and a kitchen. That's pretty much everything you'd ever need from a camper. Trust us, this thing is the goods. Certified Self Contained - Can Freedom camp at designated areas. 2x child seats can be fitted into rear of this vehicle - 2x child restraint bolts. (Has 5 seatbelts but sleeps 4). Middle front seat has lap belt only.






NZ$307.20
Total Daily Hire Rate:
---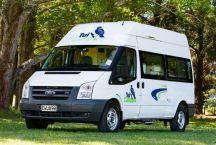 Campervan Overview
This vehicle is all about luxury on 4 wheels, designed with all the features of a full sized motorhome for maximum living in an easily navigable space. It offers practical, easy living with multiple access options for great indoor/outdoor flow. It's the perfect adventurer's vehicle – imagine coming home after a busy day of activities to the aroma of freshly brewed coffee and surrounded by all the comforts on the road. The luxurious interior has a cosy design to enjoy everything at your fingertips with ample space to stretch and relax on your king size bed. 2011-2014 Ford TransitThe Tui Trail Seeker has been certified as self contained. Permitted to freedom camp in designated areas.
Location surcharges apply if picking up outside of Auckland & Christchurch - see Full Quote page for details



NZ$307.20
Total Daily Hire Rate:
---
Campervan Overview
The Cheapa Hitop is perfect for budget conscious couples/2 adults. This Hitop campervan is the perfect cheapa alternative. Features include a generous double bed, fridge, gas stove, microwave and sink. The economical 2.4L, unleaded petrol engine will ensure that you keep to your holiday budget on your campervan adventure. Average age 3+ years.
This vehicle is NOT certified self contained



NZ$441.80
SALE
You Save NZD $120.39
NZ$321.41
Total Daily Hire Rate:
---