Christchurch loop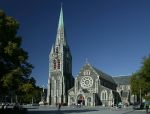 Discover the beauty of the South Island from the comfort of your campervan.
Passing through Christchurch, Blenheim, Queenstown, for 7 days
Day: 1 - Christchurch
Spend the day and night enjoying the vibrancy that the second largest city of New Zealand has to offer.
Internationally known for its gardens, Christchurch is the perfect place for those that enjoy a bit of everything; from boutique shops to heritage architecture, Christchurch has something for everyone.
Day: 2 - Christchurch to Mount Cook
Drive yourself to Mount Cook and marvel at the sheer size of the glaciers and peaks.
Formally established as a national park in 1953 Mount Cook is considered New Zealand's great alpine park so treat yourself to a scenic ski plane or helicopter flight.
Day: 3 - Mount Cook to Queenstown
Journey to Queenstown and spend a couple of days sightseeing: a thrilling jet boat ride, a vintage steamer lake cruise, a visit to the high country sheep stations, a mountain gondola ride - the list is endless, and you also have time to relax and simply marvel at the beautiful scenery.
Day: 4 - Queenstown
Spend the day exploring or just sit back and relax.
Day: 5 - Queenstown to Dunedin
Head to the east coast and stop off in Dunedin, nicknamed the 'Edinburgh of the South'.
Thirty minutes from the CBD nature lovers can explore the Otago Peninsula where yellow-eyed penguins, fur seals, sea lions and the only mainland breeding colony of albatross dwell.
Visit New Zealand's only castle, Larnach Castle or take on Baldwin Street, named the steepest street by the Guinness Book of Records.
Day: 6 - Dunedin
Take yourself on some guided tours or spend the day nature watching!
Day: 7 - Dunedin to Christchurch
Make your way back to Christchurch with some fantastic memories to savour.