ONLINE SINCE 2001 - Professional, Friendly and Competent!
The New Zealand Cycle Trail is a government led national project that has built a network of world class cycle trails. Over 2,500km of trails catering for a range of cycling abilities from beginners and families, to more experienced and competitive riders.
Imagine riding through the cool of the New Zealand bush, dense with fern, dappled with light and the only sound is the call of native birds loud above the hum of your bike.
Or, imagine a trail that rounds a wide sweeping bend to a view that simply takes your breath away – stunning snowcapped peaks mirrored in a deep, still lake.
Journeys such as these exist – they are real examples of what 'The New Zealand Cycle Trail' has on offer.  And it all started with an idea...
The Great Rides are the premier rides on the New Zealand Cycle Trail.  They are predominantly off-road trails that showcase the very best of New Zealand's landscape, environment, culture and heritage.
Further on-road cycle touring routes are also being added to the New Zealand Cycle Trail, with the long-term aim of developing a nationwide cycle network, enabling locals and international visitors to explore all of New Zealand by bike.
ONLY A FEW MOTORHOME HIRE OPERATORS OFFER BIKE HIRE - BRITZ SPECIALISE IN BIKE HIRE FOR ALL VEHICLES (EXCEPT BRITZ HITOP & VOYAGER), ALSO FOR MAUI CASCADE & ALL ELITE (Maui Elite - models under 12 months).
If you wish to book any of the below models select the Britz campervan (or Maui Cascade, or any Maui Elite model) on our site, then choose your bike and bike rack from the list of additional hire items shown on Booking page (Click Full Quote to see and book hire items)
Choose from comfort model, great for country trails and town riding or mountain bike for some serious off road riding.
All the essentials you need, from helmets to pumps, are included in one low per day hire price and there plenty of optional extras available for those looking for that something extra.
Your Britz/Maui bike will be securely transported in our customised bike racks that are fitted to the back of the campervan upon hire. Costs for bike rack hire below:
Below is an example of bikes/ prices available (from Britz/Maui)
What's included:
Helmet, flat pedals, bottle cage, rear rack, puncture repair kit, pump, spare tube, tyre levers, multi tool and lock, and 0800 freephone support service.
How to book:
Simply select the Britz campervan (except for the HiTop and Voyager), or Maui Cascade, or any Maui Elite model you wish to book then choose your bike and bike rack from the list of additional hire items shown
What do they cost:
Mountain Bike or Comfort Bike: NZ$15 per day (From 1/4/19 this price increases to NZ$16 per day).
Bike Racks: NZ$50 per hire
Conditions
Minimum hire period is 5 days.
All bike hire must be made at the same time as hiring a campervan and a bike rack to avoid disappointment in availability of bikes. Payment for bike hire must be made in full to THL (Britz & Maui)
Bicycles are all general purpose mountain/comfort bikes suitable for both road use and off road conditions. Specialist bikes such as full suspension bikes, road bikes or touring bikes can be arranged for an additional charge
Similar children's models are available on request
Child seats are available and can be fitted on request
A bicycle rack will be fitted to the motorhome at the campervan depot in Auckland or Christchurch. Clients will then be required to drive to the nearby Natural High Ltd location to collect their bicycles. This enables clients to receive a quality bike of the correct size and ensures that clients receive a full briefing on the use and maintenance of the bicycles. The locations are as follows:
+ Auckland – Natural High, 10 Uenuku Way, Mangere, Auckland,

+ Christchurch – Natural High, 690A Harewood Road, Harewood, Christchurch
Natural High Ltd has the following hours:
Summer: 1 October – 31 March:

Monday to Friday

-

09:00 – 17:00,

Saturday

-

10:00 – 16:00,

Sunday & Public Holidays - Closed

Winter: 1 April – 30 September:

Monday to Friday

-

09:00 – 17:00,

Saturday & Sunday & Public Holidays

-

Closed

Bikes will be available for pick up and drop off from the campervan depot at weekends & public holidays during winter hours. At all other times bikes must be collected and dropped off at the Natural High depot.
Please note that all bike bookings picking up on the weekend must be made at least 48 hours in advance
A maximum of two bicycles can be carried on all 6, 4 or 2 berth models in the Britz motorhome fleet, and also on the Venturer and Venturer Plus models. Also the Maui Cascade model (all Maui Elite models).

Bicycle racks cannot be fitted to the Britz HiTop or Voyager models

A helmet (compulsory in New Zealand), cycle lock and repair kit are supplied with each bicycle
There is no extra cost for one way hire of bicycles
The hirer is responsible for repair or replacement costs in cases of damage or loss of the bike and accessories. This includes but is not limited to scratches to bike frames, buckled wheels, damage by keas, missing pumps, locks, multi tool kits, tyre levers and computers
A NZ$400 bond applies to bike hires. Insurance is available from Natural High for an additional charge. Without insurance Natural High reserves the right to charge for damage or replacement costs
No refunds will be made for early returns, late pick ups, no shows or changing your mind on the day of the pick up
In order to assist Natural High with providing appropriate bike size on collection we would appreciate it if you could provide them your height in advance. You can contact Natural High via email at

[email protected]

or or phone +64 3 9822 966. When contacting them please advise your booking reference, date and location of bike pick up.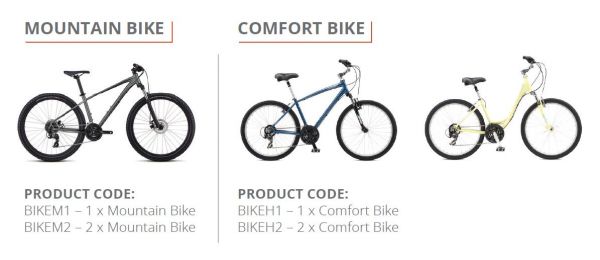 Categories
Subscribe to our Newsletters
Don't miss out!
Get the BEST motorhome & Campervan hires straight to your inbox.