Search Motorhomes
Please wait whilst we search for Motorhomes matching your criteria.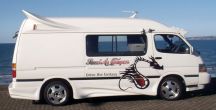 Featuring racy exteriors with fibreglass body kits and batwings and Interiors that include anything from disco balls, chandeliers, neon lights, purple velour and mirrored celings. This Sweet As 2 berth is an affordable, reliable option for all your touring needs. The Pimped features an air conditioned driver's cabin, 32L refrigerator and a queen size bed. Easy to park and great to drive, the Pimped will certainly add humour and style to your next trip around New Zealand! Every pimped campervan is individually customised and features differ between vehicles. The images displayed are only an indication of the style of campervan hire vehicle available. If you have a particular campervan you prefer please let us know at the time of booking. It is not possible to guarantee your choice but we do our best to try to allocate your preference. NOT certified as self contained. Baby/Booster seat can be fitted in the front passenger seat.
This 1999 Toyota Hiace Hi-Top 3L auto camper with central locking, has a wind out awning that pulls out on the side. Has a towbar, 2 seats/seatbelts, 2 Single beds OR double & porta potti. This Campervan is certified as self contained. Can freedom camp in designated areas.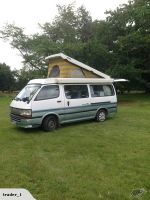 THE MOTORHOME
1999 Hiace Pop-Top 3L auto camper, Automatic with overdrive - New JVC audio unit, aux, usb, mp3, bluetooth - Canvas vents, windows and insect screens in the pop-up - has a wind out awning that pulls out on the side. Seat belts for 7 facing forward. Has a towbar. Air conditioning and factory fitted diesel heater. Also has a porta pottie! A solar shower is available for hire NZ$50. Easy to drive, requiring only a standard licence - Sleeps 2 adults down & 1 small person up.
For more people to sleep can hire a Tent NZ$50 per hire - Inflatable Mattress NZ$30 per hire.
Yes - This Campervan is certified as self contained.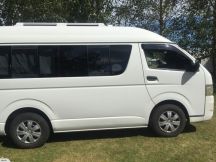 Travel in comfort with the Sweet As 2 berth (2005 Toyota Hiace), 2000cc petrol, automatic camper with air conditioning (front and rear). A porta toilet fits in the cupboard under the fixed comfortable double bed (no folding up bed each morning!). Comes with outdoor furniture table and 2 chairs as part of the package and a solar shower. A tent can be hired for extra space. The solar panels on the roof runs the fridge and the lights. With addition of the inverter, there is no need to be plugged into 240v mains power as the house battery is large and the solar panel maintains the house battery. Inverter can charge lap tops or use a hair dryer etc.
Yes - This Campervan is certified as Self Contained.