Posted on 31/05/2016 15:27 PM
Has the cost of renting a motorhome ever prevented you from hiring one?  For me this was always the case, but recently an opportunity came up to hire a 6 berth campervan and embark on an epic surf trip adventure with 6 of my closest friends.
Because we chose to travel in winter rather than summer it turned out to be one of the cheapest holidays I've ever had and for a maximum of value! Here's what we found out...
5 REASONS TO HIRE A MOTORHOME FOR A WINTER SURF TRIP
1) CHEAP on the pocket. In winter Motorhome daily hire rates are VERY affordable and diesel is cheap especially when split between friends!
2) FREEDOM CAMP - If you hire a self contained certified camper there are frequent spots along New Zealand's stunning coast where you can park up and stay for free! Often these freedom camp spots are right outside the best surf breaks! You'll all be ready to hit them at dawn!
3) STORAGE - The 6 berth camper we hired had easily enough room for 6 lads with all their gear, beers, guitars AND 6 surfboards! Plenty of cupboard space and, because we were doing it rough, we decided not to use the toilet and shower and so had even more storage space for bags and other gear.
4) COOK your own meals. Everything you need to prepare meals is included in your camper and most have fridges
5) MEMORIES - Sharing the road (and the driving) with 6 besties is a great time to talk and plan or just look out the window and enjoy the scenery
For our journey we took the minimum 5 day motorhome hire at winter/off season prices and traveled from Tauranga to the East Cape and back stopping at surf breaks and freedom camping spots along the way. Our goal was to NOT spend lots of money but to maximize our enjoyment and we only needed to travel 300 kms to find waves which only cost us $100 in diesel!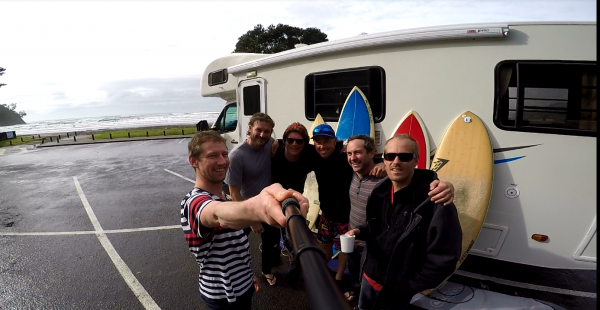 Thanks to RV Rentals who supplied the Motorhome and to Simon, Dion, David, James and Andy - I have the BEST mates in the world!

WHAT WINTER TRIP COULD YOU GO ON?
Surfing?, Skiing? Touring? If you're looking into any kind of winter trip yourself, NZ Motorhomes can help you find the right campervan AND the right prices! We also have the best advice to give and we guarantee a $50 price beat on any competitors prices! Contact us today!