Search Motorhomes
Please wait whilst we search for Motorhomes matching your criteria.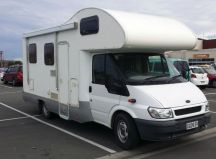 The 6 Berth Motorhome can be one of 3 models: Transit, Canter or Volkswagen 2L-3L diesel & manual transmission. All are very similar in specifications but model cannot be guaranteed. Two models have a pull out awning. Beds and seating/seat belts are different in each model. Bike rack cannot be fitted to all models. Please refer Full Motorhome Details below. Certified as self contained - can free camp in designated areas.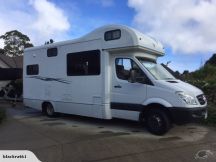 This 2009 Mercedes Sprinter twin-turbo engine 2.2L, double wheel version motorhome has everything you could want from a motorhome: tv screen that plays dvds, cd player/radio, large fridge, 4 burner gas cooker with hood, shower, toilet, tables, wind-out awning, microwave, hotwater heater, fresh water tank, internal access between the driver's cab and the rear living area. The living area can be converted to three double beds. Certified as self contained. Can free camp in designated areas.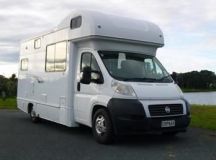 Built on the reliable Fiat Ducato chassis, this 2008 model, with a 6 speed manual transmission and room to comfortably sleep six adults this is ideal for the family. Features a rear kitchen and lounge, double dinette and an ensuite with toilet, shower and vanity. This motorhome has 6 seat belts (2 seat belts in front cab, and 4 with shoulder belts in back - 2 facing forward and 2 facing back). Up to 4x Baby/Booster seats can fitted. Certified as self contained. Can free camp in designated areas.
The six berth full of great features. Great for travelling families or groups of friends. Expect a comfy night's sleep for up to 6 with the added bonus of shower and toilet! This vehicle has positioning for a total of two child restraints. Either 1x Child or 1x Booster seat (OR 2x Child, OR 2x Booster seats) can be fitted to the rear seats in the vehicle. 2010-2013 Mercedes Cab and Chassis. 6 seatbelts. This vehicle is certified self contained and ideal for freedom camping in designated areas.
Location surcharges apply if picking up/dropping off in Queenstown - see Full Quote page for details
Get ready for the ultimate adventure holiday. The Britz Frontier has been designed for six adults to explore, live, sleep and enjoy in total comfort. 6 seatbelts. This vehicle has positioning for a total of three child restraints. Mercedes-Benz or Volkswagen models under 4 years. Portable tablet with GPS.
Certified as Self Contained and ideal for freedom camping. Hire bicycles may be fitted: x2 (at additional cost)
Location surcharges apply if picking up/dropping off in Queenstown - see Full Quote page for details
NZ$3784.00

SALE

You Save NZD $75.68

Total Daily Hire Rate:

NZ$3,708.32

$ PRICE MATCH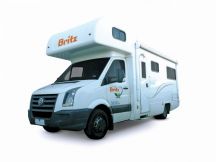 Get ready for the ultimate adventure holiday. The Vista is ideal for four adults to travel with ease and comfort, or four adults and two children. 2 seatbelts in the driver's cab and 4 seatbelts in the main cab. The popular fixed bed in the rear means no setting up and putting away beds – just wake up and go! The fixed awning and DVD player with flat screen are bonus extras to make your trip the best! Mercedes-Benz or Volkswagen models under 4 years. Portable tablet with GPS. This vehicle has positioning for a total of two child restraints.
Certified as Self Contained and ideal for freedom camping Hire bicycles may be fitted: x2 (at additional cost).
Location surcharges apply if picking up/dropping off in Queenstown - see Full Quote page for details

NZ$3990.00

SALE

You Save NZD $79.80

Total Daily Hire Rate:

NZ$3,910.20

$ PRICE MATCH
Want to explore New Zealand without compromising on day to day luxuries? Maui River 6 berth offers the discerning traveller ultimate comfort and safety. Caters for up to six people travelling and for sleeping. 6 seatbelts. It is also perfect for a couple who desire extra space and style. Up to 2x child/booster seats can be fitted in this vehicle. Average Age is 2 years.
Certified self contained - permitted to Freedom Camp
Location surcharges apply if picking up/dropping off in Queenstown - see Full Quote page for details
NZ$4302.00

SALE

You Save NZD $43.02

Total Daily Hire Rate:

NZ$4,258.98

$ PRICE MATCH