ONLINE SINCE 2001 - Professional, Friendly and Competent!
---

Please wait whilst we search for Motorhomes matching your criteria.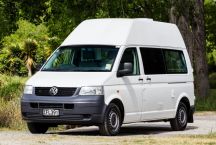 Campervan Overview
Freedom HiTop 2/3 berth Path Finder campervan (2008 & 2010 models). The HiTop Path Finder is one of our most popular vehicles - and it's easy to see why.
Creative design and clever use of space means 2 - 3 people can travel and live in total comfort. The driving cabin has seating for three with a Radio/CD Player and auxiliary (MP3/Ipod) input. The extra vertical space in the living area creates an airy, spacious feeling and ease of movement - and a good-sized double bed and roomy single make for comfortable sleeping.
This vehicle is certified self contained and you can freedom camp in this motorhome in designated areas.
NZ$1,200 Location surcharges apply each way if picking up outside of Auckland & Christchurch - see Full Quote page for details
ON REQUEST



---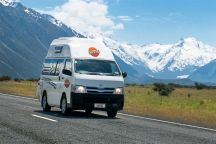 Campervan Overview
This Toyota Hiace model comes fully equipped with living equipment and is ideal for 2 people – also has room for a child. With a comfortable and functional interior, spacious dining and sitting areas and plenty of storage the new Hippie Hitop has the great functionality and reliability that you expect with Hippie!!
Children under the age of 8 years old CANNOT travel in this vehicle. model
Not Certified as Self Contained - Cannot Freedom Camp.
YES, I'M AVAILABLE RIGHT NOW - YOU CAN BOOK ME!
---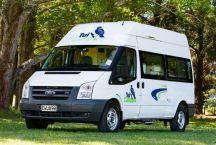 Campervan Overview
The ultimate motorhome for comfort and freedom! Generously designed for 2 people, bedding consists of comfortable double bed plus luxury features such as pressurized hot/cold water and shower. Other amenities include fridge, stove, microwave, wardrobe, utensils, cook ware, crockery, linen, towels and more! Manual transmission with power steering this diesel vehicle makes this an easy to drive and economical motorhome for couples.
This vehicle is certified self-contained and you can freedom camp in this motorhome in designated areas.
NZ$1,200 Location surcharges apply each way if picking up outside of Auckland & Christchurch - see Full Quote page for details
ON REQUEST
---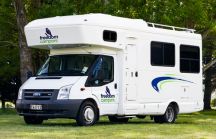 Campervan Overview
4 people can enjoy excitement, adventure and all the comforts of home when travelling New Zealand. Features a permanent double bed over the drivers cabin and a good-sized double that converts from the dining area. 2008-2009 models. This vehicle is certified self contained and you can freedom camp in this motorhome in designated areas.
NZ$1,200 Location surcharges apply each way if picking up outside of Auckland & Christchurch - see Full Quote page for details
ON REQUEST








---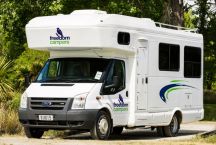 Campervan Overview
Travel New Zealand in your mobile 'home away from home'! The ultimate family motorhome is here and is large and spacious enough to sleep up to 6 people! The Path Explorer Motorhome 2008+ Ford Transit boasts all the comforts of home yet is easy to drive and handles great on New Zealand's touring routes so you can enjoy the ultimate superior road trip. Enjoy features such as DVD player, air-conditioning, fully equipped kitchen, plus full shower and toilet facilities.
NZ$1,200 Location surcharges apply each way if picking up outside of Auckland & Christchurch - see Full Quote page for details
This vehicle is certified self contained and ideal for freedom camping in designated areas.
ON REQUEST



---
Campervan Overview
With all the comforts of home, this offers the ultimate motorhome experience for a family of up to 6 people. Large and spacious inside, two separate sleeping/living areas provide real flexibility. On a lazy day you can leave the bed made up, passenger seating directly behind the driver means you can keep an eye on the kids with belted seating for 4!
All extras are taken care of with a generous kitchen, spacious bathroom, extra-large beds, open-plan living, and many more features to make your holiday a pleasure. Your very own home away from home!
Ford Transit 2011 Model. Two baby seats (three years and under) can be fitted to the rear forward facing seat with an anchor bolt. OR four booster seats (minimum four years of age) can be fitted to the rear dinette seat with a lap-sash belt.
NZ$1,200 Location surcharges apply each way if picking up outside of Auckland & Christchurch - see Full Quote page for details
This vehicle is certified self contained and ideal for freedom camping in designated areas.
ON REQUEST
---