Search Motorhomes
Subscribe to our Newsletters
Don't miss out!
Get the BEST motorhome hires straight to your inbox.
Wanting the features of a campervan, however don't want a large vehicle? The custom built JUCY Cabana is a fully equipped mobile adventure centre with everything you need onboard, including a bed, cooker, DVD player and even a kitchen sink. Toyota Estima or similar, 2000/2005. Interior refit in 2011.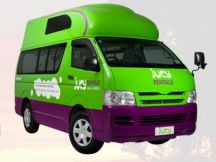 Toyota Hiace or similar, 2003 - 2009 or newer. Interior refit in 2011. The Jucy Condo features eveything from a 19" flat screen television, DVD player, cooker, fridge and kitchen sink. All that and it even sleeps 4! Trust us when we say this vehicle is truly awesome! This vehicle is certified self contained and ideal for freedom camping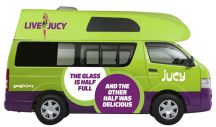 ABOUT JUCY
The JUCY Chaser has everything you need for a road trip for 3! Featuring two double beds, DVD player, kitchen and its very own shower and toilet, the JUCY Chaser is up for any adventure! It doesn't get much more JUCY than this! Toyota Hiace 2004 or newer with custom built interior fit-out in 2014. The Chaser is Fully Self Contained with a Toilet, Shower and Grey Water Tank.