Search Motorhomes
Please wait whilst we search for Motorhomes matching your criteria.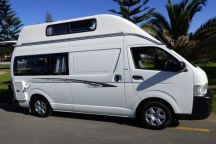 2006 Toyota Hiace Hi Top: a 4 Berth campervan that has all the mod-cons and comforts of home. It has 2 separate sleeping areas and an extra high roof and awning making it ideal for couples, families and small groups. Certified as self contained - can be used for Freedom Camping in designated areas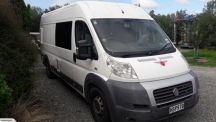 2008 Fiat Ducato, with a 6 speed manual transmission has room to comfortably sleep four adults and is ideal for the family.This 4 Berth self-contained campervan is certified or 4 people and provides you with the perfect base to explore the country. It comes fitted with toilet, shower, fully equipped kitchen facilities and comfortable beds. 1x double and 2x singles suit 2 children or one adult. Up to 2x Baby/Booster seats can fitted. Certified as self contained. Can free camp in designated areas.
Set up for a awesome adventure! A new model for Britz and perfect for 4 people to travel and sleep in. Roomy and clever use of space means you can travel in comfort. Has Porta Potti and Cold Pressurised Water. Toyota Hiace Super Long Wheel Base, models under 4 years. (Super long wheelbase) Turbo 3L Diesel and Automatic transmission makes it a breeze to drive! Portable tablet with GPS. This vehicle has positioning for a total of two child restraints. Certified as Self Contained and ideal for freedom camping
Location surcharges apply if picking up/dropping off in Queenstown - see Full Quote page for details
NZ$2464.00

SALE

You Save NZD $49.28

Total Daily Hire Rate:

NZ$2,414.72

$ PRICE MATCH
Enjoy the Great Outdoors with the great indoor camper space of the Mighty Double Down. This compact camper houses up to 4 travellers, thanks to its top and bottom double bed bunks. Get your grill on, whip up some brilliant midnight snacks, and bring slumber parties back in a big way this holiday. Vehicle 2014 - 2017 models.
This vehicle permits two child/booster seats to be fitted. This vehicle is certified self contained. This vehicle is permitted to 'freedom' camp.
Location surcharges apply if picking up/dropping off in Queenstown - see Full Quote page for details
The new Discovery camper is custom-designed for up to four people. With a dinette that converts to a double bed and drop-down double bed above it, this space saving camper will be super popular for a family of four or group of friends. The automatic transmission makes the Discovery a breeze to drive. Spend the day relaxing in the campground or use it as a base. 2016-2018 Models. Certified Self Contained and ideal for freedom camping. Up to two child or booster seats can be fitted. Can hire a bike rack and up to two bikes for this vehicle.
Location surcharges apply if picking up/dropping off in Queenstown - see Full Quote page for details


NZ$2640.00

SALE

You Save NZD $52.80

Total Daily Hire Rate:

NZ$2,587.20

$ PRICE MATCH
The Maui Cascade is perfect for a family of four, or two couples travelling together. The Cascade comes complete with kitchen, bathroom, automatic transmission, innovative bed design and an external storage locker. Enjoy guaranteed comfort and style in this new addition to the Maui range. Two child/booster seats can be fitted in this vehicle. Bike racks and bike hire are also available as an extra hire item on both the Cascade and the Cascade Elite model – the only vehicle in the Maui fleet to offer this add on! All models new in 2016.
Certified self contained - permitted to Freedom Camp.
Location surcharges apply if picking up/dropping off in Queenstown - see Full Quote page for details



NZ$2748.00

SALE

You Save NZD $27.48

Total Daily Hire Rate:

NZ$2,720.52

$ PRICE MATCH
The Double Up is less a motorhome and more an inner city apartment on wheels. It's got a loo, shower and superior cooking facilities.
Sleep 2 above the driver's cab and/or change the back from a dining area into a double bed by piecing together the jigsaw puzzle.
Superior motorhome facilities at a Mighty great price. Hire the Double Up 4 berth motorhome today. Vehicle 2010/2013 Mercedes Cab and Chassis. 4 seat belts.
Has positioning for a total of two child restraints (either child or booster seat). This vehicle is certified self contained and ideal for freedom camping in designated areas.
Location surcharges apply if picking up/dropping off in Queenstown - see Full Quote page for details
Mercedes-Benz or Volkswagen models under 4 years. Great for those who want all the comforts of a luxury motorhome. The Explorer offers a heated driver's cabin and living area, toilet and shower facilities, plus a full kitchen with microwave. Fixed Awning. 3 to 5 years old. Portable tablet with GPS. Two child seats or booster seats can be fitted to seats in main cab.
Certified as Self Contained and ideal for freedom camping. Hire bicycles may be fitted: x2
Location surcharges apply if picking up/dropping off in Queenstown - see Full Quote page for details
NZ$3990.00

SALE

You Save NZD $79.80

Total Daily Hire Rate:

NZ$3,910.20

$ PRICE MATCH