Search Motorhomes
Please wait whilst we search for Motorhomes matching your criteria.
The Rocket 2 berth backpacker campervan is a well maintained budget two berth campervan with interior refurbished in 2013. Seats 4 but only Sleeps 2. Comes with chilly bin (that you can fill with ice cubes), Cold water tank 20L, 2x burner gas cooker, bedding/linen, cultery & crockery. Well suited for those looking for a cheap or more affordable way to explore NZ. Toyota Estima 2000. Interior fit out 2013.
The rear seating system provides the extra seating required with only lap belts, so not child seats can be fitted.

The Beta Standard is great to drive, compact, convenient and an all in one solution for campervan rental in NZ. The Beta is the standard Spaceship 2002-2005 Toyota Estima is packed full of improved features with the best fuel economy and drive experience. Seats 4 but only sleeps 2. The rear seating system provides the extra seating required with one anchor point installed for a child seat, and one lap belt. Only one child seat can be fitted in this vehicle. There are two child seat options available for hire with your camper.


The ultimate in two berth campervan hire in New Zealand. The Beta 2S is the same as the Beta 2 except the rear seats have been removed to provide seating for two people with 40% more space in the back! The extra 40% space means you can comfortably sit up on the edge of the bed and get changed inside. It also increases the space to get in and out of the Vehicle and utilise the dual sliding doors, as well as more space for luggage inside by the bed. 2004 - 2005 Toyota Estima. 2014 interior fit out.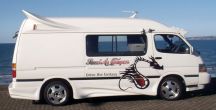 Featuring racy exteriors with fibreglass body kits and batwings and Interiors that include anything from disco balls, chandeliers, neon lights, purple velour and mirrored celings. This Sweet As 2 berth is an affordable, reliable option for all your touring needs. The Pimped features an air conditioned driver's cabin, 32L refrigerator and a queen size bed. Easy to park and great to drive, the Pimped will certainly add humour and style to your next trip around New Zealand! Every pimped campervan is individually customised and features differ between vehicles. The images displayed are only an indication of the style of campervan hire vehicle available. If you have a particular campervan you prefer please let us know at the time of booking. It is not possible to guarantee your choice but we do our best to try to allocate your preference. NOT certified as self contained. Baby/Booster seat can be fitted in the front passenger seat.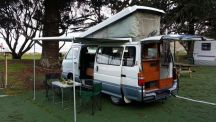 The Sweet As 2 berth (1995 Hiace) is equipped with all the essentials: features a shower and portable toilet, air conditioned driver's cabin, 32L
refrigerator and a large double bed. Primarily a 2 berth, but with the capacity to carry additional people (tents available at small extra cost). Affordable, easy to park and great to drive, the Sweet As 2 berth (1995 Hiace) is your complete home away from home for your next adventure around New Zealand! Great price for model with shower and portable toilet! Yes - This Campervan is certified as Self Contained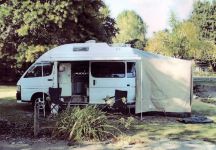 This Hi-Top camper has a self contained certificate which means you can freedom camp. It comes with a portable toilet which stores away in the cupboard which can be used in the tent attached to the back of the van. It also has an outdoor solar shower. This van has a pull out awning on the side, and a tent which clips to the back of the van where you can use the shower & toilet OR set up a bed for an extra person. Has 3 seatbelts but bedding for only 2. Extra bedding and inflatable mattress is available for hire for third person. A childs seat belt can be fiited in the passenger seat, not the middle seat.This Campervan is Certified Self Contained - can freedom camp

The Dream Sleeper Mini provides a stylish, compact Vehicle with extra focus on a great nights sleep. Featuring a high quality 2016/2017 fit out that has a kitchen unit at the rear with an extendable cooker, Fridge/freezer (41 litres), sink and running water plus secure underfloor storage for your valuables. Mosquito/bet nets (2 x Magnetic nets). GPS & bluetooth. Rear view camera.

This 1999 Toyota Hiace Hi-Top 3L auto camper with central locking, has a wind out awning that pulls out on the side. Has a towbar, 2 seats/seatbelts, 2 Single beds OR double & porta potti. This Campervan is certified as self contained. Can freedom camp in designated areas.