ONLINE SINCE 2001 - Professional, Friendly and Competent!
---

Please wait whilst we search for Motorhomes matching your criteria.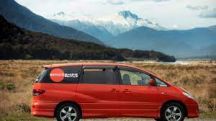 Campervan Overview
The Beta campervan is the cheapest option in the Spaceships fleet. It is a budget campervan that offers better features and has more included for free than other campervans in New Zealand. Up to 2 people can be seated in the Beta (belted seating for 2), so perfect for friends that want to share the cost of travel. Two people can sleep inside the Beta campervan: sleep fully inside or extend the bed partially outwards for more space and ventilation.
---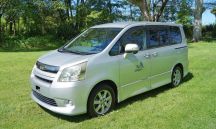 Campervan Overview
The Tui Deluxe sleepervan is made for glamping. It has luxurious features and is certified self contained and is still easy to drive. It comes with a new fit-out (fit-out age 2017-18) The Sleepervans can go where big vans can't go. Big comfy bed with high quality linen. A Rear Awning is included for a covered kitchen area for all weather cooking. Two sliding doors and a boot to make access easy. 2008 Toyota 2012 Voxy 2L.
This vehicle is certified self contained and you can freedom camp in this motorhome in designated areas.
NZ$1,200 Location surcharges apply each way if picking up outside of Auckland & Christchurch - see Full Quote page for details
ON REQUEST
---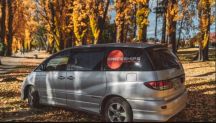 Campervan Overview
The Beta 2SC is the most spacious campervan in the New Zealand fleet. As the backseat has been removed there is more space to move around and to set up the bed. It can seat & sleep up to 2 travellers so it is the perfect campervan for your New Zealand Road trip.
IS THIS MOTORHOME CERTIFIED SELF CONTAINED - YES!
Motorhomes that are Certified Self Contained are permitted at all freedom camping spots. Here is a comprehensive list of Freedom Camping spots in NZ.







---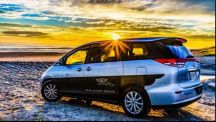 Campervan Overview
The Dream Sleeper Mini is the most advanced & comfortable campervan in the Spaceships New Zealand fleet. The set-up and the layout are completely different from any of the other campervans. Instead of having to set up the cooking area yourself, you will have a fully equipped kitchen at the back. It comes with a fixed kitchen sink, water tap, prep space, drawers and a bigger fridge/freezer.
---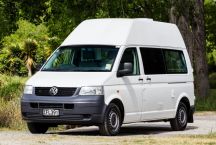 Campervan Overview
Freedom HiTop 2/3 berth Path Finder campervan (2008 & 2010 models). The HiTop Path Finder is one of our most popular vehicles - and it's easy to see why.
Creative design and clever use of space means 2 - 3 people can travel and live in total comfort. The driving cabin has seating for three with a Radio/CD Player and auxiliary (MP3/Ipod) input. The extra vertical space in the living area creates an airy, spacious feeling and ease of movement - and a good-sized double bed and roomy single make for comfortable sleeping.
This vehicle is certified self contained and you can freedom camp in this motorhome in designated areas.
NZ$1,200 Location surcharges apply each way if picking up outside of Auckland & Christchurch - see Full Quote page for details
ON REQUEST



---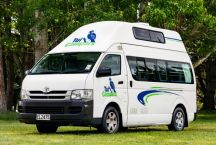 Campervan Overview
The Hi Top Tui Trail Finder is one of our most popular vehicles: creative design and clever use of space means 2-3 people can travel and live in comfort economically. 2012 - 2015 Models. One child seat can be fitted rear/forward facing in the middle seat - this is a tight fit.
This vehicle is certified self contained and you can freedom camp in this motorhome in designated areas.
NZ$1,200 Location surcharges apply each way if picking up outside of Auckland & Christchurch - see Full Quote page for details
ON REQUEST


---
Campervan Overview
The 4+1 Path Finder camper seats up to 5 people. This roomy campervan really makes it easy for a group to sight see and drive in comfort. Fantastic for a family or group of friends.

Automatic transmission, creative design and clever use of space means up to four adults and one child can travel and live in total comfort. The driving cabin has seating for three with a Radio/CD Player and auxiliary (MP3/Ipod) input. The two rear forward facing seats have lap/diagonal seat belts and child seat restraints can be easily fitted. The extra vertical space in the living area creates an airy, spacious feeling and ease of movement - and a good-sized double bed and roomy loft bed makes for comfortable sleeping. Every drawer and cupboard reveals a surprise - fridge, stove, microwave, wardrobe, crockery, cutlery, linen, towels and much more. With the Family 4+1 Campervan you not only get the freedom and comfort to travel where you wish, you can also enjoy the economy and ease of an engine running on diesel with automatic transmission.
This vehicle is certified self contained and you can freedom camp in this motorhome in designated areas.
NZ$1,200 Location surcharges apply each way if picking up outside of Auckland & Christchurch - see Full Quote page for details
ON REQUEST
---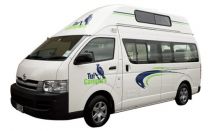 Campervan Overview
The perfect economical HiTop Campervan for a group or family. With seating for up to 5 people
This vehicle is certified self-contained and you can freedom camp in this motorhome in designated areas.
NZ$1,200 Location surcharges apply each way if picking up outside of Auckland & Christchurch - see Full Quote page for details
ON REQUEST
---