ONLINE SINCE 2001 - Professional, Friendly and Competent!
---

Please wait whilst we search for Motorhomes matching your criteria.
Campervan Overview
Modern and comfortable, these funky designed vans capture the style and imagination of free spirited travellers. Special design features not found elsewhere, mini kitchens include crockery, cutlery, full set cook wear, CD sound system and modern cosy interior with dining table. All this plus an awning (available for hire) gives you a fully enclosed extension to your sleepervan. With these sleepervans you are guaranteed to stand out from the crowd along the main routes or off the beaten track. 1999+ Toyota Liteace/Noah.
This vehicle is NOT certified self contained. CAN NOT use this vehicle for Freedom Camping
The rear awning is available for hire at an extra charge of NZ$90. (Great for shelter from the rain and wind whilst cooking/relaxing or an extra room to stand up in and get dressed.)


---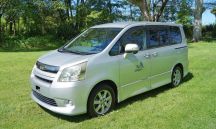 Campervan Overview
The Tui Deluxe sleepervan is made for glamping. It has luxurious features and is certified self contained and is still easy to drive. The Sleepervans can go where big vans can't go. Big comfy bed with high quality linen. A Rear Awning is included for a covered kitchen area for all weather cooking. Two sliding doors and a boot to make access easy. 2008 Toyota Voxy 2L.
Certified Self Contained. Can Freedom Camp in designated areas.
NZ$600 Location surcharges apply each way if picking up outside of Auckland & Christchurch - see Full Quote page for details



---
Campervan Overview
Wanting the features of a campervan, however don't want a large vehicle? The custom built JUCY Cabana is a fully equipped mobile adventure centre with everything you need onboard, including a bed, cooker, and even a kitchen sink. Toyota Estima or similar, 2000/2005. Interior refit in 2016/2018. Please request a DVD player if want one - free of hire.
No child or booster seat can be fitted in this vehicle. This vehicle is NOT certified as self contained. CANNOT freedom camp in this vehicle.


---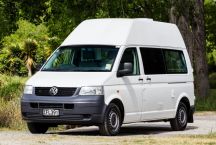 Campervan Overview
Based on the Volkswagon, this Hitop Campervan is one of our most popular vehicles - and it's easy to see why. Creative design and clever use of space means 2 - 3 people can travel and live in total comfort, also enjoy the economy and ease of an engine running on diesel with manual transmission. 2007 Models. This vehicle is certified self contained Can freedom camp in this motorhome in designated areas.
NZ$600 Location surcharges apply each way if picking up outside of Auckland & Christchurch - see Full Quote page for details




---
Campervan Overview
The Original Sleeper is perfect for the outgoing couple on a budget who want basic cooking facilities and a good night´s sleep at the end of the day´s adventures. This vehicle is automatic and easy to drive. Has basic cooking facilities: sink, fridge, bedding for two and a fold down double bed, an ipod/MP3 connection, and an auxilary battery. 1999-2004 Toyota Estima or similar.
Baby/child seat not allowed in this vehicle. This vehicle is NOT certified self contained. CAN NOT use this vehicle for Freedom Camping Minimum Age of Driver is 18 years


---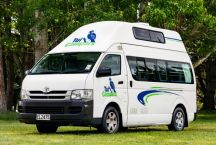 Campervan Overview
The Hi Top Tui Trail Finder is one of our most popular vehicles: creative design and clever use of space means 2-3 people can travel and live in comfort economically. 2008-2010 Models. This vehicle has been certified self contained. Can freedom camp in designated areas. One child seat can be fitted rear/forward facing in the middle seat - this is a tight fit.
NZ$600 Location surcharges apply each way if picking up outside of Auckland & Christchurch - see Full Quote page for details


---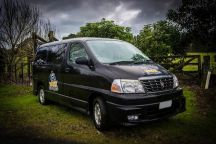 Campervan Overview
The Original Happy Black Sheep is ideal for backpackers or the budget conscious traveller who is looking for a reliable sleepervan that is spacious with a large sized bed and reliable and modern. The sleepervan is automatic, making driving very easy for touring around New Zealand. It comes with all that is required including bedding, towels and tea towels, basic cooking facilities and utensils and basic living equipment. Vehicle 2000/2001. Baby/child seat not allowed in this vehicle.
This vehicle is NOT certified self contained. CAN NOT use this vehicle for Freedom Camping. Minimum Age of Driver is 18 years


---
Campervan Overview
Built in 2004, this Toyota Hiace is ideal for a couple or small family. The Budget 2+1 provides an economical way of sleeping in comfort and cooking a meal for up to 3 adults. Its compact layout features a one way fridge, gas cooking facilities, on board cold running water and plenty of storage + Porta Pottie. Vehicle is certified self-contained.
Location surcharges apply if picking up/dropping off outside of Auckland & Christchurch - see Full Quote page for details





---