Posted on 21/12/2017 10:40 AM
Pavlova was created for – and named after – the Russian ballerina Anna Pavlova while she was touring New Zealand in 1926.
Making your first pavlova can sometimes be very hit and miss and a good test of your baking skillsThe meringue for the pavlova is made from egg whites and sugar and has a unique squidgy texture thanks to the addition of vinegar (or cream of tartar) and a little cornflour. The egg whites are whipped until firm and then the sugar is gradually added until the meringue is glossy and thick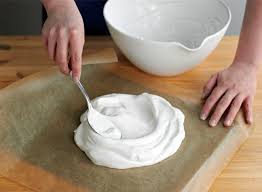 However, you don't always need egg whites to make a pav. There is also a vegan version available! Replace egg whites with an equal amount of aquafeba (the liquid drained from a can of chickpeas) and follow the recipe in the same way. BUT you will need to bake at a lower temperature 120C /250F (or as low as 110C/230F).
Once your pavlova is baked and cooled it can be garnished with freshly whipped sweetened cream and topped with fresh berries and slices of kiwifruit of course!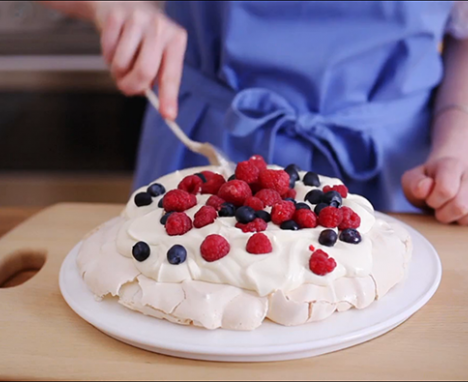 For the meringue
• 4 egg whites
• 250g caster sugar
• 1 tsp white wine vinegar
• 1 tsp cornflour
• 1 tsp vanilla extract
For the topping
• 500g strawberries, kiwifruit or other berries
• 3 tbsp icing sugar
• 350ml double cream
1. Heat oven to 150C/130C fan/gas 2. Using a pencil, mark out the circumference of a dinner plate on baking parchment. Whisk the egg whites with a hand mixer until they form stiff peaks, then whisk in the sugar, 1 tbsp at a time, until the meringue looks glossy. Whisk in the vinegar, cornflour, and vanilla.
TIP: The secret to making a good pav is to be sure that no egg yolk, grease or other liquid has gotten into your egg whites.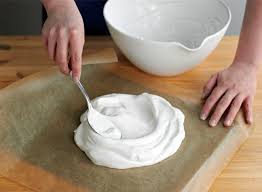 2. Spread the meringue inside the circle, creating a crater by making the sides a little higher than the middle. Bake for 1 hr, then turn off the heat and let the Pavlova cool completely inside the oven.3. When the meringue is cool – decorate with whipped cream and whatever topping you like (berries and kiwifruit slices work well)
3. ENJOY! Hopefully with a dash of summer sun and some Christmas wine!
Happy Christmas everyone!