Posted on 22/09/2015 13:34 PM
1) Freedom Camping or 'free' camping
Where can i camp? Assume nothing ask a local. This is a good bit of advice as many travellers who come to New Zealand are under the misconception that you can 'free camp' just about anywhere you want to in New Zealand

As New Zealand receives more and more tourists using the freedom camping spots, they are becoming fewer and fewer. This is mainly because good public spots have been abused by freedom campers with no respect for the rules.
There are some important things to consider when you try freedom camping like differnent bi-laws and rules for specific regions that you need to be aware of and the fact that your motorhome must be a self-contained vehicle and display a self-contained certification.
If you are considering renting a motorhome AND going 'free' camping then check with your rental company that the vehicle you are hiring has been self-contained certified. If not you may risk a fine as many councils are now coming down hard and making regular checks.  For a list of camping bi-laws specific to regions click here

Avoid paying fines for staying overnight in illegal sites!  Rankers is a very  helpful website which lists all (or nearly all) of the freedom camping spots in New Zealand. There is even a smart phone or i phone app available (Camping NZ App ) which lists every free (and paid) NZ camping location and is a very handy app to have.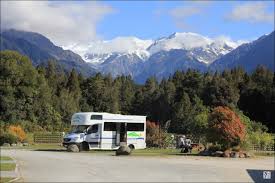 2) Department of Conservation (D.O.C) campsites
There are over 200 public camping areas on conservation land throughout New Zealand.
Unlike the freedom camping spots your van or motorhome is not required to be self-contained certified and all types of campers including those on foot with tents are welcome to stay at DOC conservation campsites. With a DOC campground you do get what you pay for. Tarrifs to camp are typically cheap (sometimes free) and often operated on a trust basis but facilities can be minimal especially the more remote you go. DOC have three grades of campsites (basic, standard and serviced) and so cost will vary accordingly. Booking can only be made for the serviced campsites
For all information, tariffs and for bookings visit http://www.doc.govt.nz/campsites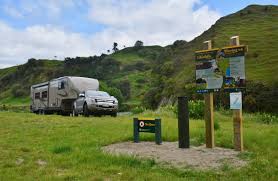 3) Campgrounds and holiday parks
Most camping in New Zealand is done in registered campground and/or holiday parks. Here you will find more of the creature comforts you are used to like clean and serviced facilities, dump stations for your motorhome, entertainment and activities for the kids, recreation rooms, internet, laundry, a swimming pool or spa and even a campground shop with basic food and camping items available.
Again tariffs can vary and all sort of campers from tents to vans (powered or unpowered) are welcome. In the summertime campgrounds in New Zealand can fill up fast and bookings are recommended.
https://www.newzealand-motorhomes.com/travel-information/camping-options

4) Farmstays
New Zealand Farmstays are a unique accommodation option especially if you want a real taste of rustic, authentic Kiwi county life and want to get to know the locals. There are many properties like farms, orchards and even vineyards that allow you to park legally and safely, on private property
Costs can range from free or sometimes you can pay by exchanging a bit of your muscle and participating in 'farm work' which can be both rewarding and fun! The really special thing about farmstays are their locations. You will find some of the most beautiful, breathtaking back country locations in New Zealand and get the chance to Taste fresh, locally grown produce or to experience a real kiwi activity like river boating.
Things to know about Farmstays...
Your motorhome must display a self-contained certification. If you are considering renting a motorhome AND using a farmstay then check with your rental company that the vehicle you are hiring has been self-contained certified and stickered.
From more information and to book a farmstay visit www.okay2stay.co.nz